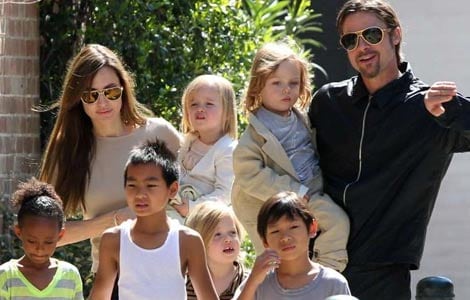 A Facebook friend of mine who I hadn't seen in the flesh in a while recently congratulated me on our new addition. He teased me about being a "Hollywood family," referencing the practice of some star couples to adopt babies from all over the world. I took the quip in stride and appreciated the kind words.
It made me think, though, what is meant by a "Hollywood family." Negatively, it insinuates that babies are accessories and adoption is trendy, which is of course pretty shallow. But the description is not without its positive connotations.
Partly it means people with significant means can afford the cost of adoption and of big families. While we are by no means raking in $20 million per film, we are fortunate to have sufficient financial resources to stomach the extra cost of growing our family through adoption. It's not easy but it is doable, and for that we are grateful.
Partly it means that eclectic families are noticeable, and that's a good thing too. Not the attention per se, as we are not "look at me" type of people. But more so that we like how we look because it reflects what we value, which is the power of diversity, connection to multiple cultures, and a response to what we see in the Bible as an invitation to be blessed by being an adoptive family.
We realize that our lives are not just our own to live, but that we are out there in the world, being observed by others and hopefully conveying a message that is of benefit to others. It's what we all do, is watch others and in turn be watched by others. And I can't think of anything more I'd like to communicate about what's important in my life than that God has seen fit to bless us with three beautiful children who are now part of the funky, colorful clan called the Huangs.